Klingon Delicacies
While at the table, I see the Maitre'D approaching.
It is K'Tesh, the Klingon culinary expert. He travels around restaurants all over the galaxy and grades the meals he gets.
"Get ready, human" he tells me, "I have instructed Starkey Al-Hvmmmmm to prepare some Klingon delicacies for you to consume. Let's see how you handle them!"
He walks away with a laugh. Fortunately, Lieutenant Worf she fed me some Klingon meals before, so my stomach has immunised itself to the awfulness of it all.
K'Tesh returns with the first course.
"Let's start you off with an easy dish; three plates of Gladst."
It looks gruesome, but I polish them off without any visible ill effects. K'Tesh looks surprised.
"You seem to like Klingon food, Picard; perhaps you ought to have something more substantial?" he tells me.
Two large plates are placed in front of me.
"This will be an ordeal" he laughs, "Here you have two Rokeg Blood Pies!"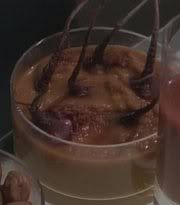 My stomach starts sending up warning messages, but I will myself to eat them. I had to do the same thing when the Klingon Ambassador visited the
Enterprise
.
They are soon eaten, and K'Tesh looks very disappointed.
"You are going to have to be given some stronger food than before, human!"
K'Tesh brings four servings of another dish. It is Gagh.
"My favourite Klingon delicacy!" I gratefully tell him, as I start eating the live food, "I was hoping you were going to bring some of this. Do you have any more after I eat this?"
K'Tesh groans and says, "I give up!"
I wash it all down with some Bloodwine, and think I've done a great job.
Where is the nearest restroom?