The Big Fight With Picard & Motty
Jean-Luc:
Welcome, everybody to the Horizon Ampitheatre for the big fight; tonight, as my guest commentator, I have Motty, the esteemed English soccer commentator, who is known for his love of trivial facts.
Motty:
thank you, Jean-Luc; did you know that it was in this very stadium 14 years ago that Mick the Masher finally managed to beat Neutron Nick after five attempts. I was always considered a very unlucky stadium fgor Mick at first, when....
Jean-Luc
: Thank you, Motty, but perhaps we ought to remember the match in hand.
Motty
: Of course; by the way, this will be the 1037th match that I've commentated on; it's a career that spans back more than 30 years when Hereford beat Newcastle United in the FA Cup; then, of course, I was...
Jean-Luc
: The referee is just coming out to introduce the competitors.

Motty
: With The Baroness as referee, the fighters know that they daren't put a foot wrong here, otherwise she will penalise them; I remember in a match last year when she machine-gunned a competitor because he infringed a penalty. He kept on talking when she told him...
Jean-Luc
: The Baroness is just going to speak....
The Baroness
: Now for the main event of the evening; on my left is Ororo Munroe, known as 'Storm', and on my right is Raven Darkholme, known as 'Mystique'.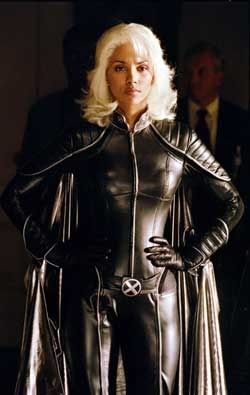 Jean-Luc
: This is going to be a real grudge match...
Motty
: ....they have been struggling to fight each other; anything can happen right now, they are real enemies; this all started when Storm said to Mystique...
Jean-Luc
: ...And the bell goes off; Storm blasts Mystique with her favourite move, the lightning strike and hits her against the ropes.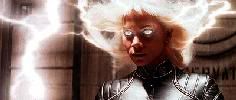 Motty
: She's down already! Mystique is down already! This could be a very fast match. The fastest match I ever saw was three years ago was on Celsus IV when The Gurgitator made mincemeat of his opponent...and the referee.
Jean-Luc
: Storm is pushing to get at Mystique, but The Baroness won't let her until the count is over...
Motty
: The Baroness is threatening to shoot Storm with her pistol unless she goes to her corner; she is a tough referee, and won't stand for any trouble; I remember when...
Jean-Luc
: Mystique is up and ready to go again; she is about to shapeshist; she changes into a replica of Storm and lunge at each other...which is which?
Motty:
I think Storm is the one one the left...no it's the one on the right as she is given a triple head lock and changes back...did you know that Mystique has been a loyal member of the Brotherhood, and has served Magneto since...
Jean-Luc
: Mystique now changes to a replica of The Baroness; this will confuse Storm temporarily, as she daren't attack the referee!
Motty
: Not with those machine guns she's got; actually, I don't think The Baroness will be too happy about that. The last time she was a referee the...
Jean-Luc
: The Baroness has shot her duplicate! As she lies on the floor she reverts to Mystique, and Storm uses a cyclone to lift the two of them up in the air.....
Motty:
....then she let's Mystique fall on the floor, while Storm effortlessly flies down.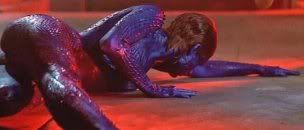 Jean-Luc:
It's a stunning victory for Storm! Professor Xavier will be happy for her.
Motty:
Indeed he will, Jean-Luc. Let me just consult my 'Bumper Book Of Trivia' to see how much more I can say about their relatives, times they've met, history and....
Jean-Luc
.....that wraps up this fight; goodnight, everybody.